Local company Inline Healthy and Beauty have kindly donated a supply of Aloha sun lotion, ensuring the children staying at Silverdale centre will be protected throughout the summer, meaning they can play outdoors without worry of burning in the sun.
All the children the charity helps suffer from poverty, neglect, abuse, learning difficulties, illness or are young carers themselves. Leeds Children's Charity gives these children the opportunity to have a break and enjoy a visit to the seaside, making friends and having fun along the way.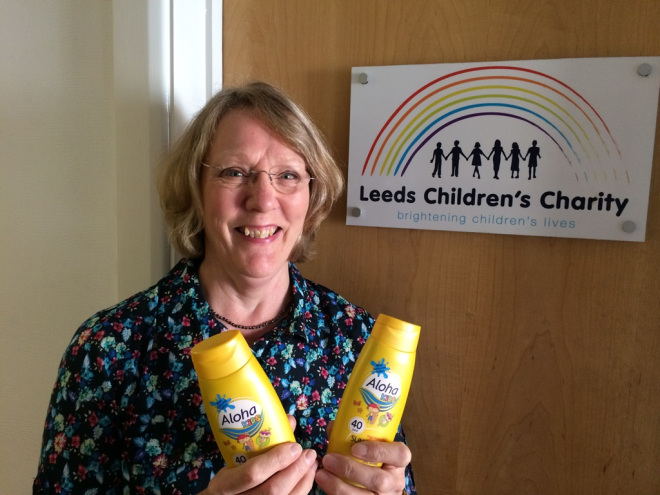 The Silverdale Holiday Centre is a purpose built resort that allows the children to enjoy a holiday they may otherwise have struggled to experience without the charity's help. The donation is not only a very kind gesture it's an incredibly practical donation which will help the charity protect the children's health and wellbeing.
Inline Managing Director, Christian Cain said of the donation "The charity's priority is the health and wellbeing of the children at the Silverdale holiday centre, and as a local charity we felt it was only right that we helped in any way possible. During the summer it can be very easy for children to get sunburnt playing outdoors, so naturally we thought sun lotion would be the ideal way to help the charity. The sun lotion is from the Aloha kids range and not only has a high SPF to screen the child's skin from the sun's rays, but it also has a blue dye ensuring that all exposed skin is covered!"
Leeds Children's Charity relies on donations from the public and business such as Inline, and without these donations it would be impossible for them to continue the work they do with local children.
As the Chairman of the Board of Trustees Verlie McCann was delighted with the donation saying "The impact of the donation is incredible, Christian and Inline have given the charity enough sun lotion to last the entire summer season. The children's wellbeing is of utmost importance and Inline's donation means we can protect the children from the sun for the remainder of summer, letting them enjoy playing outdoors free from worry."
Now, let's hope the rain disappears and there is plenty more sun for the children to enjoy at the Silverdale holiday centre!
For further information on Leeds Children's Charity and the many ways you can support it visit https://www.leedschildrenscharity.org.uk or call 0113 2454281.