At Leeds Children's Charity at Lineham Farm, our mission to brighten children's lives has always been powered by the kindness and generosity of our local community. Thanks to the hard work of those at Lineham Farm and the help of local businesses and organisations, we spend our days supporting the children of Leeds who need it most.
The latest addition to our growing family of supporters is one that we're incredibly excited about – Leeds United Football Club. The club has chosen us as an official charity partner for the 2023/24 season, in a collaboration that marks a significant milestone in our journey to bring joy and hope to the children of Leeds.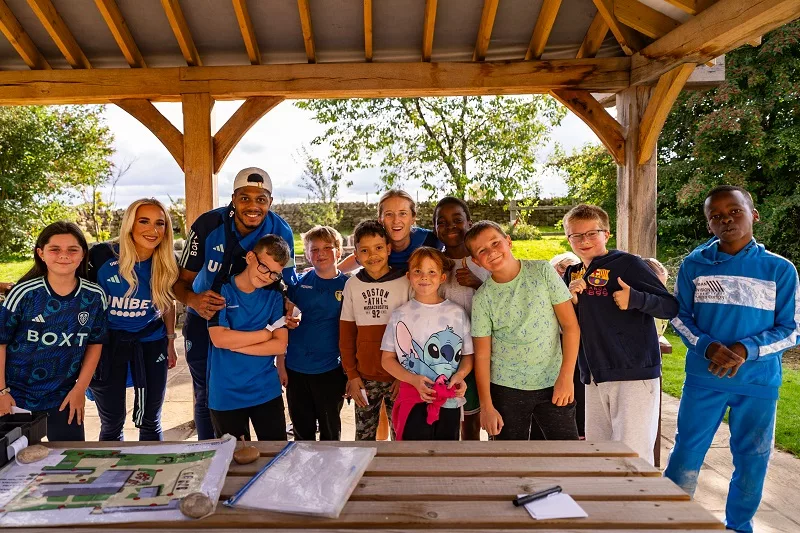 Leeds United will support us first and foremost by providing unforgettable experiences to the children at Lineham Farm. By participating in these exciting initiatives and activities, the club will help shine a spotlight on the charity, spreading awareness of the important work that takes place at Lineham Farm. We're overjoyed to have LUFC's support; with their iconic status and dedicated fan base, it's an amazing opportunity for us to introduce more people to our mission of giving underprivileged children in Leeds the childhood experiences they deserve.
The United for Children launch day   
To celebrate the launch of our partnership, United for Children, LUFC players Georginio Rutter, Jamie Shackleton, Rebekah Bass, and Paige Williams visited Lineham Farm to meet the children and see the work we do first-hand. We chatted to Dave Norman, our CEO, and Jenny Jones, our Head of Fundraising, to find out a little more about the day and what it meant to the children.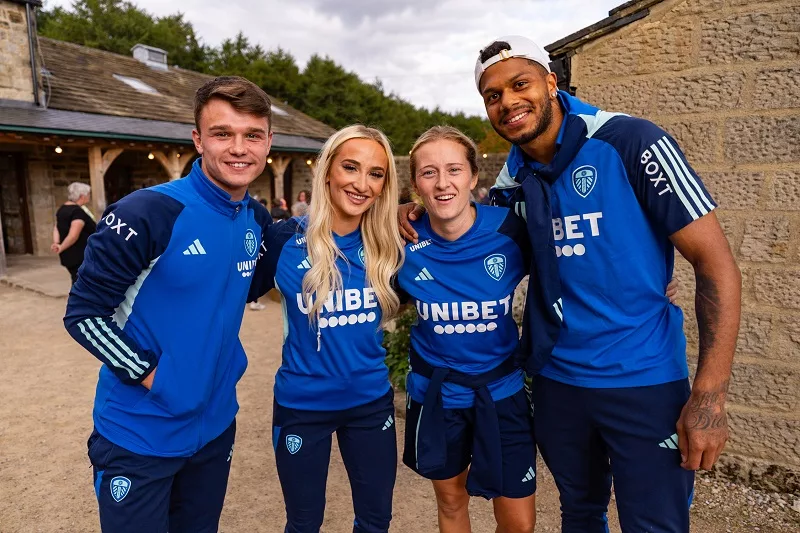 Joining in unforgettable activities  
The day was filled with laughter and excitement as the players joined the children in various engaging and fun activities like archery, orienteering, bushcraft and pizza making. Perhaps surprisingly, there wasn't a football in sight!
These activities aren't simply a special treat – they mirror the experiences we provide to the children who visit us at Lineham Farm throughout the year. More than just fun and games, these activities are a cornerstone of our approach to building confidence and providing joy to children who often face difficult challenges in their home lives. They're designed to encourage children to step a little out of their comfort zones, overcome obstacles and build inner strength. Of course, we always make sure we have a lot of fun along the way too.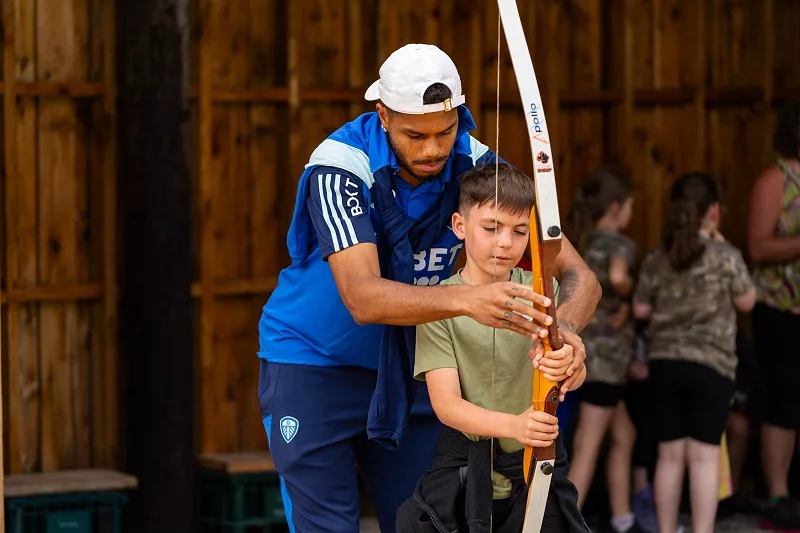 We were so impressed with the way that Georginio, Jamie, Rebekah and Paige threw themselves into the activities and played with the children. The feedback from them was incredible, and all the players said this was the most enjoyable visit they'd had. They loved the atmosphere, how they were made to feel welcome and the love the children showed them. Cuddles and hugs were the order of the day!
Creating cherished memories  
When the players first reached the orienteering base, the children became so excited that it seemed like they couldn't believe what they were seeing. We can't overstate enough how much it meant for the children to meet Leeds United players. For some, they were seeing their heroes face to face – and even those who didn't immediately know who the players were soon realised and very quickly became engaged.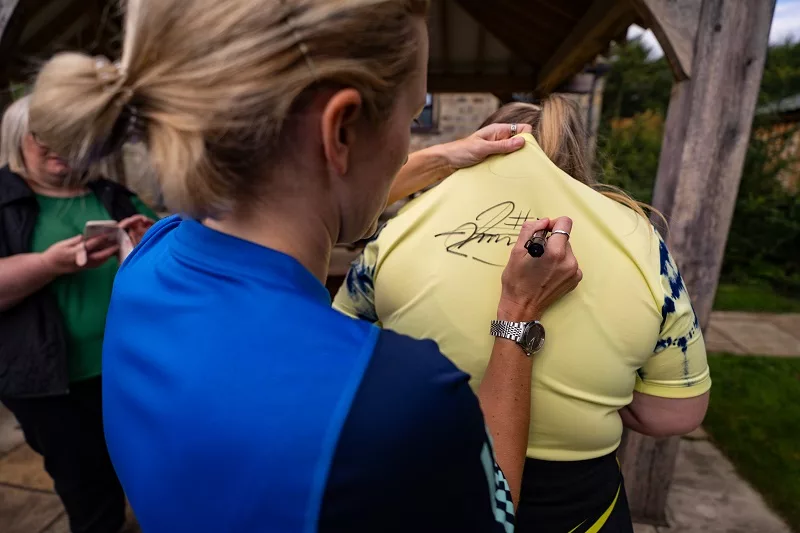 The visit gave the children something to talk about and made them feel special – something we strive to do each and every day at Lineham Farm. It can be difficult to realise how little some of these children have to see or experience in their daily lives, and yet here they were, running around with football players from Leeds United! It was really special to see.
One standout interaction was one young boy who was so excited that he got the balloon modeller to make him a giant microphone so he could pretend to interview the players. The group then used this to sing around the campfire together. A simple memory like this for a young child will stay with them forever, and that's what the charity is all about.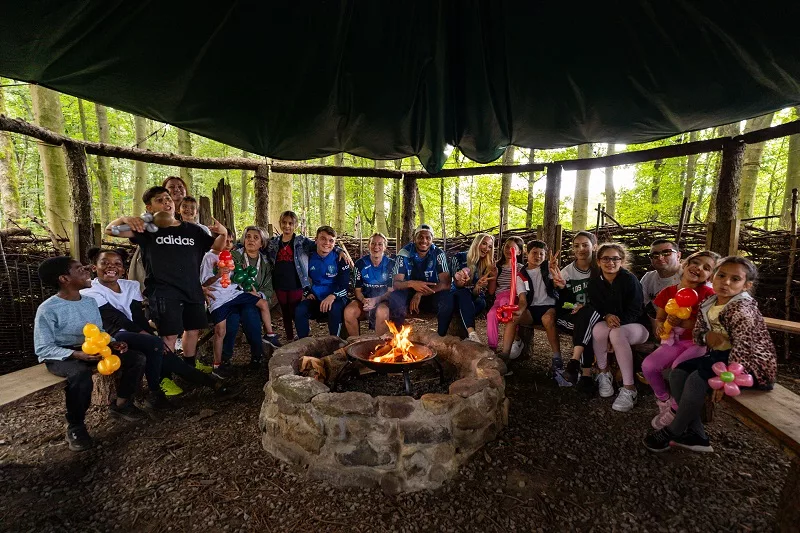 Summarising the day, Dave had this to say;
"The visit by members of the Leeds United team to Lineham Farm recently was fantastic. The four players were wonderful with the children who were on site and they, the players, took part in the activities that were on offer. They did this with genuine good will and enthusiasm.
The children loved the visit. They loved getting to know the players better and seeing the stars firing arrows, cooking marshmallows, making pizzas and orienteering. There was some cheating going on during the orienteering, but the least said about that, the better! It was a wonderful visit and the start to what we all hope will be a very positive relationship."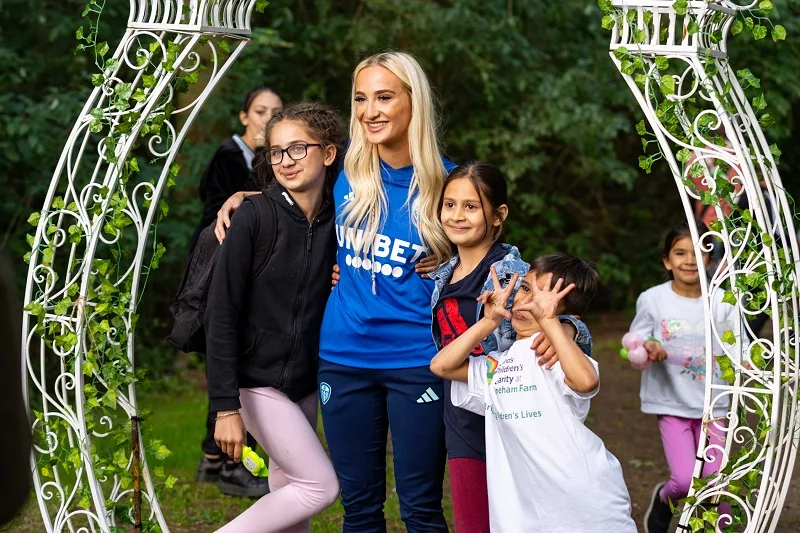 Teaming up for good
The United for Children launch day was remarkable, and the perfect opportunity for the children to experience the joys of childhood that every child deserves. But, this is just the beginning.
Our partnership with Leeds United holds so much potential. Going forward, we'll work together to amplify the reach of the charity while giving as many more children as possible unforgettable experiences. From more player visits at Lineham Farm to exciting match-day experiences at Elland Road, with the help of Leeds United, we're looking forward to brightening the lives of so many children.
Stay tuned for more of our journey with LUFC. We're already making plans for the next visit – we're hoping for Halloween for some festive pumpkin carving!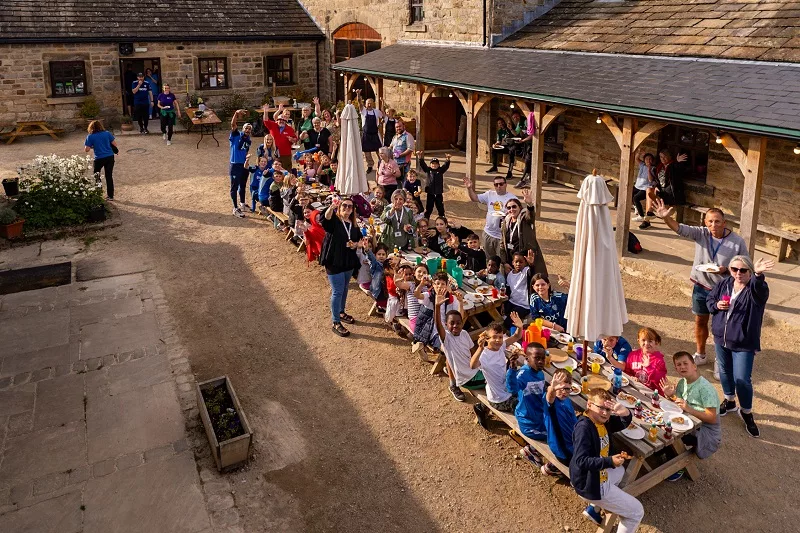 To find out more about United for Children, you can read more here. You can also connect with us on social media to follow this exciting journey – we're on Facebook, X, LinkedIn, and Instagram.
If you're looking for ways to support Leeds Children's Charity at Lineham Farm, either as an individual or a business, you can find out more here. Fundraising and monthly giving help us keep Lineham Farm a special place for the children. Your donations pay for children to spend time in a safe and happy environment, doing activities like riding bikes, climbing, learning about nature, and simply having fun.